Using VeriskPay in Xactimate Desktop
VeriskPay allows you to send payments securely and directly to policy holders from Xactimate through a secure third-party processor, Fiserv.  
Through our partner, Fiserv, users can integrate bank accounts from which they can send payments digitally to the payee. The insured can also determine his or her own options for receiving payments. 
Sending payments through VeriskPay 
To send payments via VeriskPay, follow these steps: 
From within the project, navigate to Claim Info > Parameters. 
Within the Add Ons section, select Advance Payments. 
Select Add. 
In each coverage type row, enter the dollar amount to be paid out to the payee(s). 
Select the payment method via the drop-down menu: Electronic Funds Transfer or Check (if you select check, the system merely allows you to record the check number you sent to the customer, it does not actually send the recipient the funds). 
Enter the relevant information in the remaining fields (this differs between payment types).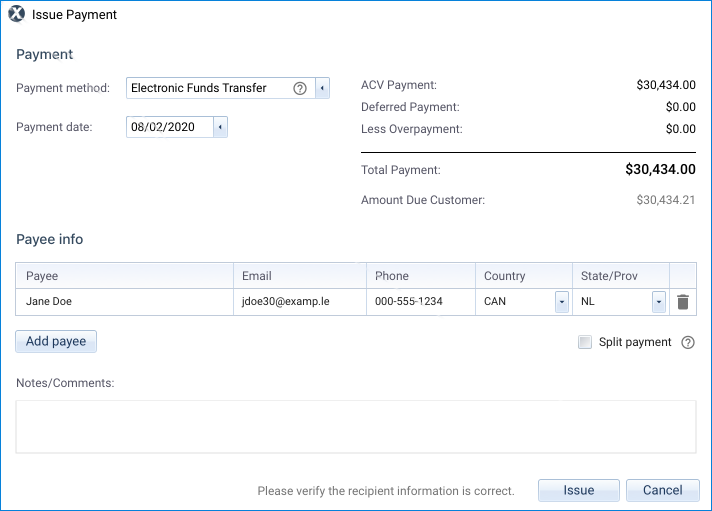 When the information is complete, select Issue (or select Record to save check information), which opens a confirmation screen with all the data. Review the information in the dialog box and confirm that it is correct. If there is anything amiss, select Cancel to return to the previous screen and make changes. If all the information is correct, select Confirm to send the payment. 
The listed payee will receive an email with the necessary information to obtain payment through Fiserv. 
Multiple payees 
For an electronic funds transfer (EFT), you can add payees to split the payment or to allow multiple people to view and approve the payment before it is processed. To add payees, select Add payee under the Payee info table to add another row in which you can add an additional payee. Repeat for any additional payees you need to add. 

Select Split payment to add an additional field where you can indicate how much money to send each payee. If you do not select Split payment, all the listed payees receive the payment notification, and all must approve it, but only one receives the payment. 
The listed payees will receive emails with the necessary information to obtain their payments through Fiserv. 
Setting up VeriskPay 
To activate VeriskPay in your instance, contact your sales representative. 
---
---