Adding items in XactScope
The Items tab remains blank until you have completed at least one selection in the Actions tab. To add items, select your relevant room, affected area, or equipment/contents; fill out all the prompts for the selection in the Action tab; and select the Add Items button. Repeat the process for all items necessary for your project. You can then review the generated items based on what you have selected and sort items by group/room. 
If you have answered all the prompts in the Actions tab, the Add Items button is visible at the bottom of the pane. If, however, you have not answered them all, the Answer Questions button is visible. If you need to add additional items, make the selection that would include those items and return to the Actions tab to answer all the prompts. If the Add Items button is visible when you initiate this, it will revert to Answer Questions once you answer your first prompt. Once you have answered everything relevant, the button returns to Add Items, and you can add the relevant items to your list. If you then change any answers, XactScope generates a new list and you can replace the old items with the new by selecting the Add Items button again. 
Add Line Items 
Once items appear in the Items tab, you can right-click one and select Details, which appears next to the cursor. This opens the Add Line Item window, which includes all the details for the item such as the category, selector, and action as well as a description and the depreciation amount; it is essentially the same as the Quick Entry panel in the regular Xactimate. These details are not editable here because they are pre-programmed based on the prompts you answered. If you need to make changes to something that is not editable in XactScope, leave Sketch and open the Estimate Items tab in the far-left menu to edit the items in the Quick Entry panel. 

 Sorting 
You can sort the items you have created by selecting the drop-down menu to open the options. You can view all the items for the project, only those for the selection, or view all the items but sorted according to their assigned groups.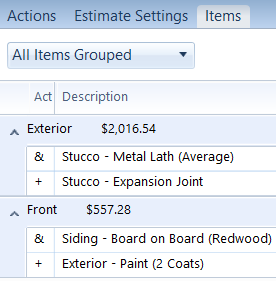 ---
---