Change the layout of the dashboard in Xactimate online
This article is for Xactimate online and version 28 desktop. It may not apply if you are using Xactimate desktop (X1).
Hide or show a pane
The Dashboard is primarily two panes: Recent Projects and XactAnalysis communication. You can customize how those panes appear in the dashboard.
To hide a pane, click Unpin

. This will cause the pane to only be visible when you hover over the corresponding tab. When unpinned, the Recent Projects tab moves to the upper left portion of your window, under the Dashboard button. The XactAnalysis communication tab moves to the bottom left, just above the status bar.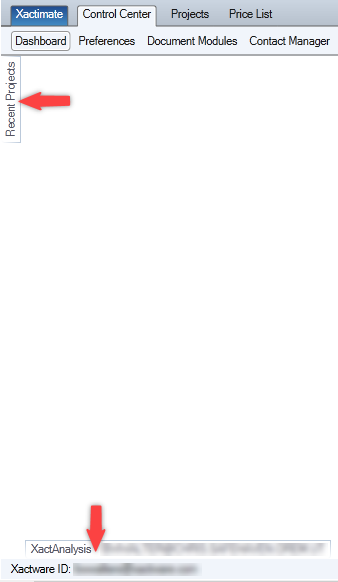 The XactAnalysis communication pane can both be closed and hidden. To hide a pane, click Unpin

. To close the pane, click Close

. The pane will no longer be accessible on your dashboard unless you re-open it.
To open the XactAnalysis communication pane
From the dashboard, click Xactimate.
Under Options, find the View section.
Select the XactAnalysis checkbox.
Customize your columns
The column behaviors will work for both the Recent Projects pane and the XactAnalysis communication pane.
You can sort your projects by clicking the header of the column.
You can rearrange the order of the columns by clicking and dragging the column names.
You can hide a column by right-clicking on the column name and selecting Hide this column.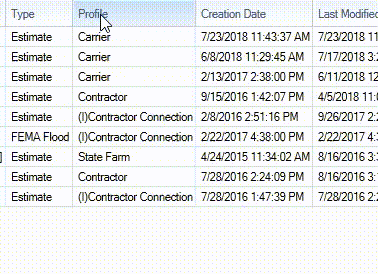 Add a column by right-clicking on any column header and selecting Show ... column for a specific column or Show all columns for all available columns. Possible columns include:

Project
Insured
Claim Number
Profile
Status
Type (refers to project type)
Group
Job Type
# Items
Grand Total
Branch-File #
Company
Creation Date
Last Modified Date
Home Phone
Your available columns may depend on your company, instance, and profile.
If you want to undo your changes, you can right-click on a column name and select Restore column defaults.
---
---